Dashain (widely known as Vijaya Dashami) is the longest and the most auspicious Hindu festival in Nepal, celebrated throughout the country along with their diaspora throughout the globe. In Nepal, it is the biggest festival in the country and is the longest national/public holiday, where you enjoy delicious food varieties with your family with no work and no obligations for almost a week.
Understanding Dashain
Dashain that is also widely known as Vijaya Dashami falls on the bright half of the lunar month of Ashoj (September /October) and ends on the full moon day. Dashain means a long holiday during which people exchange festival greetings. It means soaring kites and new clothes, delicious foods, and good times with family members. The tenth day of Dashain is Vijaya Dashami which is one of the most important days for Nepalese.
Why do we celebrate Dashain?
There is a big history behind the celebration of Dashain. During the occasion, the nine forms of Goddess Durga are worshiped to give us the blessings of hers. Dashain symbolizes the victory of good over evil. The meaning of Dashain is different for different mythology yet the concept of winning over evil is the same. Nepali people celebrate Dashain to strengthen our familial bonds and eat delicious food together with their families.
How is Dashain festival celebrated?
During Dashami, elders put tika(rice) and jamara on younger family members and relatives. These are sacred rituals as tika(rice) and jamara symbolize blessings passed from one generation to another, from elders to youngsters. There are 2 stages of celebrating Vijaya Dashami: celebrating it and food.
What foods do people love to serve in Dashain?
Dashain is a festival when we get holidays for almost a week. No work, no obligations. It is a fun time. And the best thing about Dashain is… FOOD. That's right. We sit home, play some card games, and most of the time we spend is on trying new dishes all day long. This ten-day festival is the time when eating is one thing that is the highlight of the celebrations. Unlike any other festival, it does not include fasting or anything. There is no need to go to any kind of fasting. That is why Dashain is really about eating different types of food and having fun.
Vijaya Dashami Food Recipes: Taste of Nepal in Festive Mood
Dashain Food Recipes is supposed as recipes taste of Nepal. People cook varieties of food in Dashain. Dashain Food cuisine is the major meat related to food. Dashain food is meat food in Nepal. But there is also Dal, Bhat, Tarkari, Chatani, Achar, etc in Dashain Food cuisines, Let's see some Dashain khana photos.
1. Dashain festival food variety:Mutton Curry
Mutton is the official Dashain food recipe in Nepal. In every family, they buy a goat and keep it in the house for a few days. And at the day of sacrifice, that is the eighth day of Dashain, everyone sacrifices the goat and they eat the meat as an offering from God.
After the offering, there is ample meat in everyone's freezer to last the whole week of Dashain. During this time, people eat mutton every day. Curry is the most famous one to have with rice and it is one of the most special dishes of the Dashain festival.
2.Dashain festival food variety: Selroti
Selroti is one of the most famous and well-loved foods all over Nepal. It is a deep-fried sweet dish that people make by soaking rice overnight and grinding them enough to get a thick paste. Then, we mix the paste with unsalted butter and sugar. It has been made in all of our houses during Dashain or any other festivals.
3.Dashain festival food variety: Mutton Sekuwa
Mutton Sekuwa is another Dashain food recipe that is popular during the time of Dashain. The soft pieces of meat are separated from the meat of a whole goat, marinated, and grilled to make mutton Sekuwa.
This is a smoked piece of meat which is very good for the taste. People eat mutton sekuwa with drinks while playing cards in Dashain.
4.Dashain festival food variety: Bhutan Chiura
Bhutan is a fried goat interior dish. It has intestines, internal organs, and other similar things in it. This is a special dish which is made on the day when the Goat is sacrificed. Most Newari people enjoy making this dish, especially during Dashain.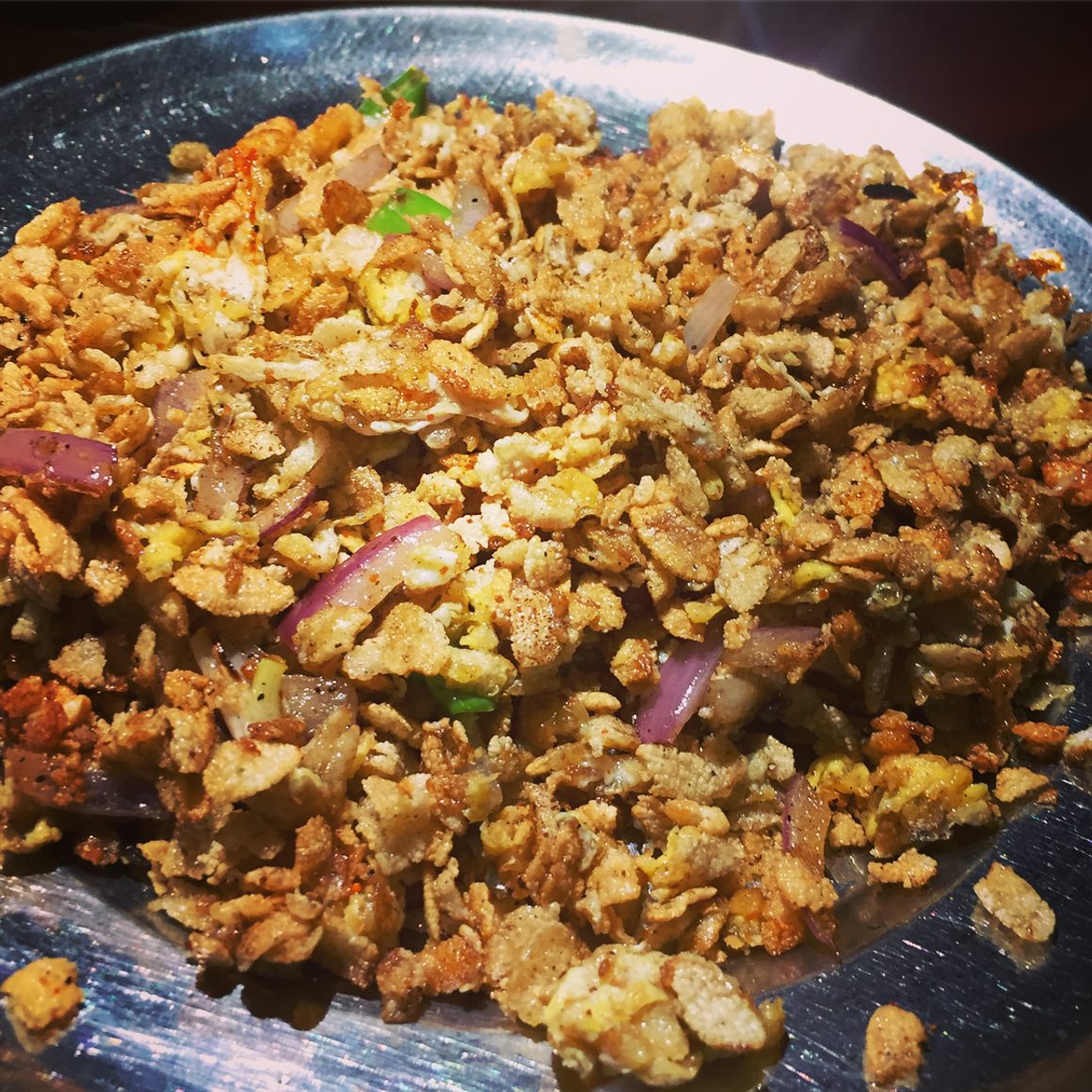 5.Dashain festival food variety: Dal Bhat Masu
As far as Dashain meal recipes go, Dal Bhat Masu is a year-round favorite. It's masu day every day. Dal is a lentil mixture, and bhat is rice and people normally cook them together in a pressure cooker as well. Masu is meat that is cooked and turned into curry.
6.Dashain festival food variety: Mewa ko Achar
Mewa is Papaya. Papaya that is not yet ripe is plucked from the tree and marinated with lemon juice and many other ingredients to make a pickle. During Dashain, people prepare this dish traditionally. It is a very fresh dish and people prefer to eat it with selroti or rice. It tastes very good and is much popular among Nepalese in Nepal as well as all over the world.
7.Dashain festival food variety: Sweet Chini Roti
For Dashain or any other traditional festivals in Nepal, roti is a must-have. There are many different varieties of roti and among them,selroti is the most important one.
After selroti, if there is any other that is much important, it is chini roti. It is sweet and tastes very good with home madeachar. It is popular among Brahmins, Kshatriyas as well as newars in Nepal.
8. Dashain festival food variety: Mutton Biryani
Dashain festival is all about mutton. That is why, during Dashain, all the mutton dishes are much more popular. Mutton biryani is an Indian-inspired dish but nowadays it is much popular in Nepal as well. Especially, during Dashain, people prefer mutton biryani for dinner or lunch alternative.
Significance of food in Dashain:
These are just a few of the dishes that we prepare and eat during the festival of Dashain. Some of the dishes are regular dishes which are more popular in Dashain for example mutton curry and khaja set and achars.
During the holidays, the emphasis is on spending time with family and eating properly. We all get new clothes, nice food, and new recipes to try with our families in our leisure time during this season. It's always enjoyable to spend time with family members, experiment with new foods, and dine together. Food becomes a tether that binds the family together, allowing them to share their tastes and enjoy the moment.
Do you want to explore more about festive culinary habits? Check out this article.
Want to know how to plan a trip to Nepal during the festive season? Check out this page.