Ask Koreans what food makes them most nostalgic about their childhood and tteokbokki is the first thing they´ll say. Tteok means rice cake and bokki means stir-fried food. Combining these two words we get the term ´tteokbokki´ or simply ´stir-fried cake´.
The origin and history
One may be a bit surprised to learn that tteokbokki, a humble food sold at street stalls and a mainstay for hungry children after school, was actually a dish prepared for the royal court. The first version can be traced back to the mid 19th century. The dish originated during the Joseon Dynasty period when it was used as a cure, and it was also one of the royal court's dishes. Originally, it was called tteok jjim, a braised dish of sliced rice cakes, meat, eggs, and seasonings.
Savouring the taste of this delicious dish
First, you order a small batch of this dish. Each of the thick, plump morsels drenched in the scarlet, steaming sauce is served with a toothpick. The aroma is sweet and spicy, and the soft, wiggly cylindrical morsel you just had is a rice cake. When you bite into the rice cake, it's nearly like biting into a marshmallow since it's so soft and chewy! Then there's the sweet and highly spicy sauce to contend with! You'll also find some layers of fish cake, and your cup will soon be completely empty.
How to make tteokbokki
INGREDIENTS (SERVES 2)
MAIN
350g / 12 ounces Korean rice cakes, separated
150g / 5.3 ounces Korean fish cakes, rinsed over hot water & cut into bite-size pieces
2 cups Korean soup stock (dried kelp and dried anchovy stock),
60g / 2 ounces onion, thinly sliced
SAUCE (MIX THESE IN A BOWL)
3 tbsp gochujang(Korean chili paste)
1 1/2 Tbsp raw sugar
1 tablespoon soy sauce
minced garlic-1 tbsp
Korean chili flakes-1 tsp
GARNISH
roasted sesame seeds-1 t
1 tsp sesame oil
1 stalk green onion, finely chopped
*1 Tbsp = 15 ml, 1 Cup = 250 ml
How to proceed:
Unless your rice cakes are soft already, soak them in warm water for 10 mins.
Boil the soup stock in a shallow pot over medium-high heat and dissolve the sauce by stirring it with a spatula. Once the seasoned stock is boiling, add the rice cakes, fish cakes, and onion.
Boil them a further 3 to 5 mins until the rice cakes are fully cooked.  Then, to thicken the sauce and deepen the flavor, simmer it over low heat for a further 2 to 4 mins.
Add the sesame oil, sesame seeds, and green onion then quickly stir. Serve warm.
HOW TO STORE IT
Leftover tteokbokki can be refrigerated for a day or two. When reheating, add some spare soup stock or water. Though it won't be as saucy as the first time.
Different Types
Today, variations also include curry-tteokbokki, jajang-tteokbokki, seafood-tteokbokki, cream-sauce-tteokbokki, rose-tteokbokki, galbi-tteokbokki, and so on. It is commonly purchased and eaten at bunsikjip(snack bars) as well as pojangmach (street stalls). There are also dedicated restaurants for tteokbokki, which is referred to as jeukseok tteokbokki. It is also a popular home dish, as the rice cakes (garae-tteok) can be purchased in pre-packaged, semi-dehydrated form.
1. Tteokbokki–Ottogi Curry
Ottogi Curry is a Korean-Indian fusion recipe developed by the Korean food company Ottogi in the late 1960s. It is made by cutting the beef, onion, and carrot into slices, then sauteing lightly in grape seed oil. Add 3 cups of water to the vegetables and bring back to boil. Mix curry powder with 1/2 cup of water until it's a moist paste and then add the curry paste to the rest of the mixture and continue simmering until the beef is nearly cooked. Add the Garae tteok and cook for an additional 5-10 minutes until the Garae tteok is ready.
2. Tteokbokki–Jajang
It is a Korean rice cake smothered in a roasted black bean onion sauce with bouncy fish cakes. The perfect snack or side dish. It's simple and very delicious. It tastes like chewy soft rice cakes that are covered in a rich black bean sauce with hints of onion and green onion and a seafood flavor thanks to the kelp and fish cake. In a small bowl, mix together your water and cornstarch. In a medium-size pot set over low heat, add your avocado oil. You want to ensure your oil is warmed. Then add in your roasted black bean paste. Fry it in the oil for 1 minute. Then add in your onion, green onions,
Pour in your cornstarch water and dried kelp into the pot. Mix altogether scraping the base of the pot. Allow this to boil and reduce to a simmer for 5 minutes or until sauce has thickened. Add in your rice cakes and mix them into the sauce. Season with sugar. Boil this for 10 minutes until rice cakes are soft but chewy or fork-tender Transfer to a plate and sprinkle green onions and sesame seeds over top.
3. Tteokbokki-Seafood
Seafood Tteokbokki is a type of Tteokbokki cooked loaded with seafood and veggies, finished off with green onions sprinkled on top at the end. This dish is prepared like a normal one but loaded with seafood like prawns, squid, scallops, and surimi.
4. Tteokbokki-Cheesy seafood
Cheesy Seafood Tteokbokki is a type of Tteokbokki cooked loaded with seafood and cheese, finished off in the oven to melt the cheese topping. This one is prepared like a normal one but loaded with seafood, it is then finished off with a quick melt of cheese and mozzarella in the oven for a gooey toasted topping. A casserole that is a celebration of flavors, spicy, hot, sweet, savory, and creamy all at the same time, add to that the taste of seafood and mildly salty cheese, it is definitely a party for your taste buds. It's Korean (tteok and gochujang), its Italian (mozzarella), it's American (quick melt/Velveeta), it's Japanese (dashi), it's a wonderful confusion of everything.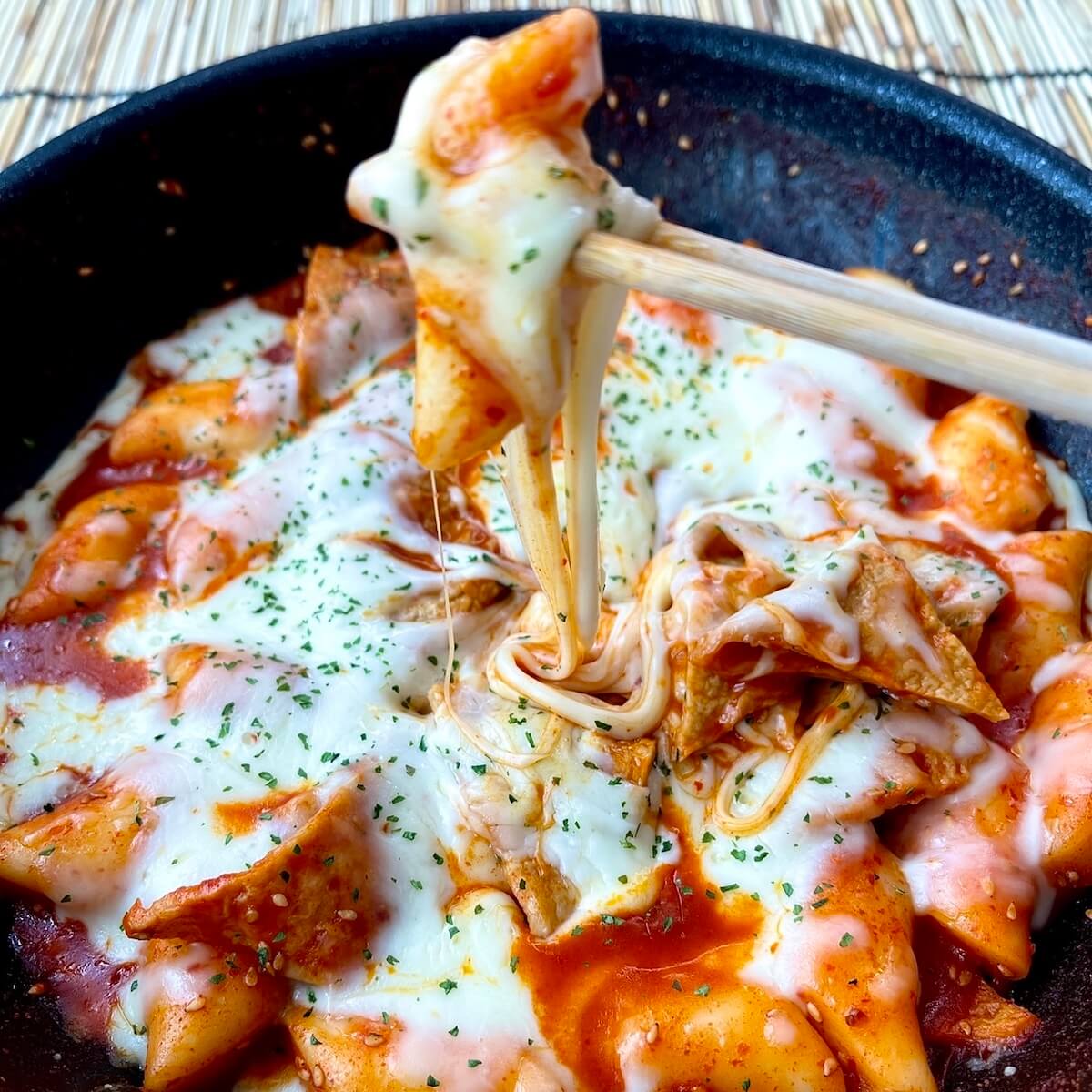 5. Tteokbokki–Rose
Rose Tteokbokki is a chewy bouncy rice cake simmered in a delicious smoky spicy sweet cream sauce with bacon, fish cakes, and cheese! Imagine soft chewy rice cakes that have been cooked in a mild smoky-sweet cream sauce with chewy bacon and flavourful fish cakes. The sauce is accented with aromatic flavors from green onions and garlic. The Swiss and mozzarella cheese ties this dish altogether offering a salty rich taste to the dish. The cheese is not to be skipped unless you cannot tolerate dairy. It is a milder version of your usual Spicy Tteokbokki thanks to the cream sauce. Another name for this kind of Tteokbokki is Rose Carbonara Tteokbokki or Rose Cream thanks to the yummy bacon and creamy sauce.
6. Tteokbokki–Galbi
It is a delicious Korean dish made from beef ribs, where the meat is minced and pounded on the bone, then marinated in a sweet, salty, and savory sauce, and then grilled or barbecued over charcoal. It's sweet, chewy, and juicy, and best of all, it's very tender because the meat is already chopped into small pieces and softened. "Galbi" means ribs in Korean, and "tteok" means rice cake, and it was given this name because the process of cutting, marinating, and shaping the meat is similar to the process of making a rice cake. The final dish is also soft and tender, much like a rice cake in texture. And unlike galbi, which tends to be the center of a meal, tteok galbi is always served as a side dish for rice, along with many other side dishes.
7. Tteokbokki-Jeukseok
Piquant, red gochujang-based tteokbokki is one of Korea's most popular snacks. While both soup-style gungmul-tteok and dry gireum-tteok are commonly enjoyed, the former is considered the de facto standard style.. Chili powder is often added for additional heat and color, while rice syrup helps with sweetness and consistency. Fish cakes, boiled eggs, and diagonally sliced scallions are common additions to the dish. In gireum-tteok-bokki, the mixture of Korean chili powder, soy sauce, sugar or syrup, and sesame oil often replace chili paste. Soft tteok sticks are seasoned with the sauce mixture, then stir-fried in cooking oil with a handful of chopped scallions and served.
Why is tteokbokki important to Korean culture?
Although tteokbokki has its root in the palace and was considered to be a rare luxury until the 1930s, it became a delicacy for all due to the surplus of flour from the States as the means of support after the Korean war, tteokbokki evolved into the form it is today.
If you want to know more about the street foods of Korea, click here.
Interested in other fascinating food like tteokbokki? click here.