It is practically impossible to think about Italian cuisine without tomatoes. But, did you know that Italian people believed that tomatoes were poisonous? For this reason, Italians were slow to adopt it into their cooking, instead of using tomato plants for decoration. It's fascinating how it evolved from being used for decorations to evolve into tomato recipes in the modern world. One may be a bit surprised to learn that Italians only had tomatoes for a few hundred years. By learning how the tomato became a part of it, you can understand Italian cuisine's true character:
When and how did tomato recipes become famous?
The history of tomatoes in Italian cuisine is a surprisingly short but still interesting one. As iconic as the tomatoes are in Italian cooking, it wasn´t always that way. Because the plant is not native to Italy, or to Europe, it came late into Italian cuisine. The tomato was first "discovered" by the Spanish Colonists while exploring and then conquering the Americas. When tomatoes reached Italy in 1548, people gave it mixed reactions at first due to their unusual qualities. But, the odd thing is that the tomato dishes became popular in Europe long before then in North America.
Early eating
Tomatoes were nicknamed the "devil's fruit" due to their red appearance. People believed that they were responsible for causing illnesses and food poisoning. Moreover, they were already familiar with tomatoes but this kept most Italians from consuming tomatoes. At the beginning of the 18th century, the tomato began to acquire increasing importance in the Italian diet due to changing cultural mores and dietary practices. Breakthroughs showed that when tomatoes were properly cooked and prepared, they were an essential source of nutrition. However, it was not until the 19th century that many of the tomato dishes of Italy began to emerge.
How Italy´s flag and food are deliciously intertwined
If I say "pizza" you picture a round crust with cheese and tomato sauce. The red color is essential. People would argue that the green is for pesto, the white for white sauce, and the red for tomato salsa found in tri-color lasagna. Furthermore, the flag represents the simple but wonderful Caprese: green for basil, white for mozzarella, and red for ripe tomatoes. In any case, you might say the red in Il Tricolore represent the true blood of Italy–the tomato.
The Italian national flag, which incorporated red as part of a tricolor design, helped reinforce the tomato as a major staple in the Italian diet. Indeed, many famous Italian meals during this time purposefully included red, white, and green hues to reinforce national pride. Tomatoes, for example, give the red in spaghetti al Pomodoro, pizza Margherita, and Caprese.
Tomato dishes
Meanwhile, Italy grows around 4.9 million tons of tomatoes a year. For many, the ingredient stands as a symbol of Italian cuisine. Its popularity spread rapidly. Afterward, it became the base for millions of sauce, soup, salad, and pasta recipes thanks to its color and flavor. Here is one of the most famous tomato dishes in Italian cooking:
Tomato recipes-Penne all'arrabbiata
Pasta Arrabiata is a classic. Specifically, it means "angry pasta" in Italian. The sauce that people use in this dish is a spicy (angry) tomato sauce that's made with plenty of olive oil, garlic, chopped tomatoes, and red pepper flakes to provide the heat.
A quick and simple classic, this penne all arrabbiata recipe is a great go-to pasta dish. It's also one of just a few typical pasta tomato recipes that is vegan. It is thanks to the absence of cheese in the tasty spicy tomato sauce.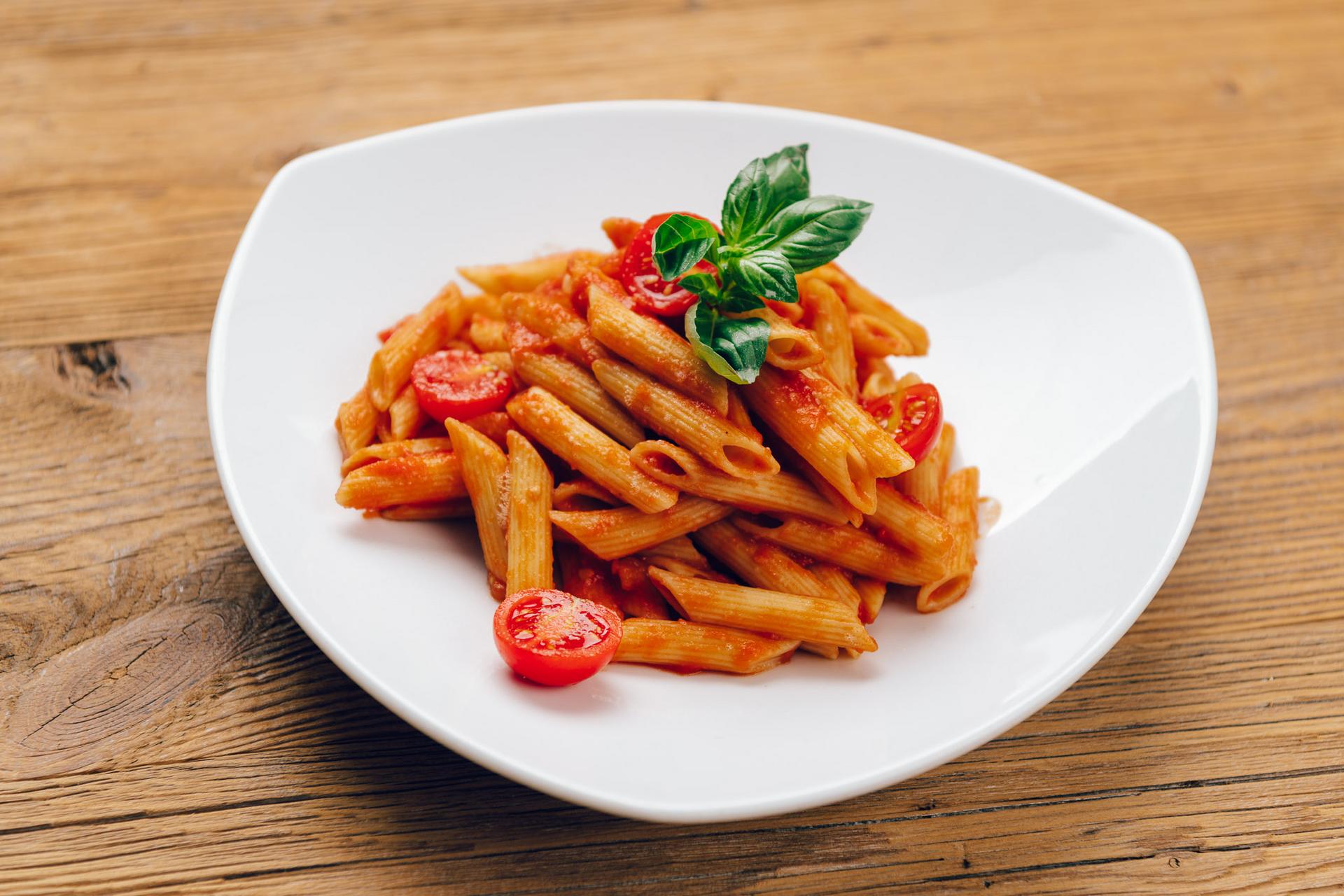 Tomato recipes-Spaghetti with Piennolo tomatoes and burrata
Recently, this tomato dish makes the most of Piennolo tomatoes in this simple recipe. People normally serve it with spaghetti, burrata, basil, and lemon. A small cherry tomato from the region surrounding Mount Vesuvius. Moreover, piennolo tomatoes have a distinct flavor from the mineral-rich volcanic soil. To make this dish, place a nest of spaghetti on top of the sauce in each bowl and top with a piece of burrata, the reserved tomatoes, and basil leaves. If you cannot find Piennolo tomatoes, you can also use ripe cherry, or Pomodoro tomatoes as an alternative.
Tomato recipes-Tomato tortelli
When it comes to comfort food, tortellini is a classic. This dish uses classic Italian flavors of Provolone cheese, tomatoes, and basil for Tortelli tomato recipe. This creamy tomato recipe is made in one pan for a fast, easy, and comforting meatless weeknight dinner. You just need cream, cheese, spices, and tomatoes. This elegant recipe demonstrates that you don't need a huge list of ingredients to make a beautiful, balanced pasta dish.
Tomato recipes-Spaghetti alla chitarra
Spaghetti chitarra literally translates to 'guitar spaghetti'. Traditionally, people press it into long, square-shaped spaghetti strands using a stringed chitarra pasta cutter. It is one of the most popular tomato dishes. Here the pasta dough is vacuum-sealed and left to rest for a day. It is a kind of a trick to ensure the dough is smooth and fully incorporated. We pair this unique homemade spaghetti recipe with a delicious plum tomato sauce.
Tomato recipes-Tomato bruschetta
This tomato bruschetta recipe is one of the famous tomato dishes full of tips for creating the perfect version of this Italian classic. You just need bread, garlic, tomatoes, and olive oil to prepare this dish. The trick lies in using top-quality, ripe tomatoes and taking your time with preparing them. Fragrant basil and a kick of garlic finish the dish wonderfully.
It is an antipasto from Italy consisting of grilled bread rubbed with garlic and topped with olive oil and salt. Variations may include toppings of tomato, vegetables, beans, cured meat, or cheese. In Italy, bruschetta is often prepared using a brustolina grill.
Tomato recipes-Mozzarella risotto
This tomato risotto is a gorgeous weeknight hero- rich, creamy, and colorful. Before pouring fresh basil oil on top, people pour mozzarella into steaming arborio rice. Delicious and comforting! It's one of the simplest and most delicious tomato recipes in Italian cuisine.
For this dish, we take the ingredients from the classic Caprese salad-tomatoes, mozzarella, and basil. Heat half the butter with the olive oil in a large pan over medium heat. Next, add the onion and a couple of the basil leaves and sweat for 2 minutes. Stir in the tomato and continue to sweat for 1 minute. Stir in the rice, making sure each grain is coated in oil. Add the wine and cook until the rice has absorbed it. Remove from the heat and add the remaining butter and mozzarella, stirring well until it has melted into the risotto. Stir in the grated parmesan and remaining basil leaves and serve immediately.
Tomato recipes-Italian tomato and mozzarella salad
Caprese salad is one of the simple Italian tomato dishes and classic Italian salad. It is made with juicy ripe tomatoes, fresh mozzarella cheese, fresh basil leaves, drizzled with olive oil, and seasoned with salt and pepper. It's an easy throw-together salad that makes a wonderful appetizer any time of the year.
Anyone can make it from only a handful of fresh ingredients and it couldn't be easier to make. It's simple, juicy, creamy. The most important thing with Caprese salad is the freshness of the ingredients. That's why it's a summertime staple when tomatoes and basil are fresh and at their best. Once your tomatoes and mozzarella are sliced, just alternate them in layers on a plate. Then, pluck some of your fresh basil leaves and place them under a few of the layers. Drizzle the olive oil and balsamic reduction on top and sprinkle with salt and pepper before serving it up.
Margherita pizza
Pizza Margherita, as the Italians call it, is a simple pizza hailing from Naples. Margherita pizza features a bubbly crust, crushed San Marzano tomato sauce, fresh mozzarella and basil, a drizzle of olive oil, and a sprinkle of salt. This pizza is simple, fresh, and a guaranteed crowd-pleaser.
Like Caprese salad, Margherita pizza stars fresh basil, mozzarella, and the best tomatoes you can find. It's still a delicious, simple showcase of good quality products. But, the addition of crisp, chewy pizza crust, melty cheese, and warm sauce makes it a cozier, heartier meal. Stretch your dough, spread on the sauce, and layer it with the thinly sliced mozzarella and tomatoes. Bake until the cheese melts and the crust is golden. Now, add the remaining pizza toppings: fresh basil leaves, red pepper flakes, and extra-virgin olive oil.
Slice, and enjoy!
Creamy Tomato Lasagna Florentine
This creamy tomato lasagna florentine is layer upon layer of saucy tomato tang nestled into a creamy blanket over the sauce, soaked up on all sides by thick and chewy lasagna noodles for a perfectly clean slice of comfort food. Everyone knows that a person can never be too close to those browned lasagna edges that are the perfect amount of chewy. And that's exactly why we like to hang out together and get wild about all the foods. That's this lasagna florentine.
This creamy Tomato Lasagna is so deliciously, comforting, and simple. Noodles, tomato sauce, and a creamy spinach layer are all anyone needs to make it. To assemble lasagna, spread a few spoonfuls of sauce around in the bottom of the pan. Next, arrange 3 noodles, top with about 1 cup sauce, 1 cup creamy spinach mixture, and 3/4 cup Mozzarella cheese. Repeat for three complete layers. Top it all off with the last three lasagna noodles, 1 cup sauce, and 1 cup Mozzarella cheese. Finally, cover with greased foil so the cheese doesn't stick and bake for 40 minutes.
Remove foil and bake for another 10 to brown the cheese. Remove from oven and let stand for 15 minutes before slicing and serving.
If you want to know more about Italian cuisine, click here.
If you want to see other similar articles, click here.