Potato is called the king of vegetables and deservedly so. The best thing about potatoes is they are always easily available everywhere. And they can be shaped into our favorite dishes with minimum effort. So, let's go and try some easy potato recipes from around the world. You can follow these recipes to make your side dishes or even for the main dishes when you feel like doing nothing.
1. Easy Potato Recipes: French Fries
Okay, so let's start with everyone's favorite french fries. They are made by cutting the potato into even strips, drying it, and then frying it in a deep fryer.
Ingredients
Potatoes
Vegetable oil
Garlic powder
Onion Powder
Chilli Powder
Recipe
Step 1
Firstly, Cut the potatoes into 1cm thick batons after peeling them. To remove the starch from the potatoes, place them in a bowl of cold water and soak for at least 2 hours. This will help them crisp up while frying.
Step 2
Drain the potatoes thoroughly and pat them dry with paper towels. Fill a deep pan halfway with oil and heat to 140 degrees Celsius, or until a cube of bread dropped in browns in 60 seconds. Cook the French fries in batches for 6 minutes, or until golden straw-colored, cooked through, and faintly crisp. Using kitchen paper, absorb as much liquid as possible.
Step 3
Increase the heat to 180°C, or until a cube of bread browns in 30 seconds. Fry the French fries for another 2-3 minutes per batch, or until they are lightly brown and crisp. Drain on paper towels.
Step 4
At last, Immediately season the fries with salt, garlic powder, onion powder, and chili powder, and enjoy.
2. Easy Potato Recipes: Smashed Roasted Potatoes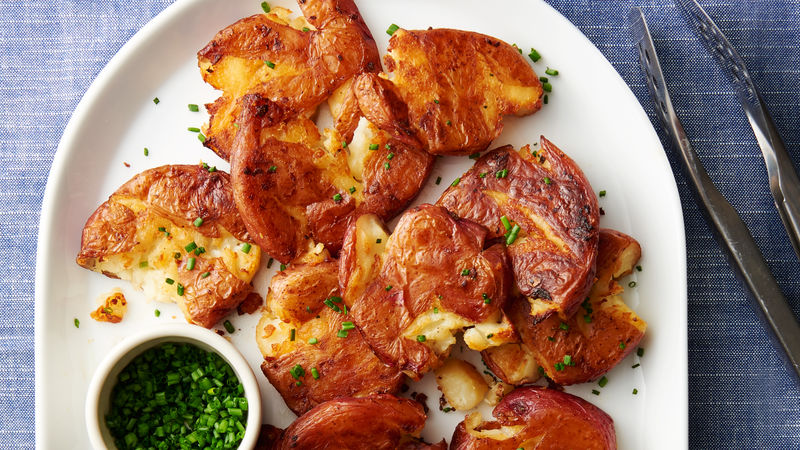 These smashed roasties are easy to prepare and are definitely a treat to your mouth and stomach. In this recipe more surface area is achieved by boiling the potatoes for longer before smashing them, resulting in golden brown beauties with extra crispy potatoes that everyone will like!
Ingredients
Potatoes
Vegetable oil
Salt
Seasonings of your choice
Recipe
Step 1
Firstly, Preheat the oven to 200 degrees Celsius. Place the potatoes in a big saucepan of cold salted water to cook. Bring to a boil, then reduce heat to low and cook for 15 minutes, then drain and steam-dry.
Step 2
Place the potatoes in a large roasting tin, leaving enough space between them to allow them to spread once crushed. After that, Push down on each of the potatoes with a fish slice to slightly break them up. Season to taste and pour over the oil. Roast for 1 hour, until golden and crispy, turning once.
Step 3
At last, Serve with the sauce of your choice.
3. Easy Potato Recipes: Chukauni
Chukauni is a Nepalese potato salad that originated in the Palpa district. Boiled potatoes, yogurt, onion, coriander, and spices are used to make this dish. It's a popular salad that's usually served as a side dish with roti, Sel roti, steamed rice, or Batuk. It can be served hot or cold.
Ingredients
500 grams (500 gm) baby potatoes
1 red onion (whole, diced)
3 finely chopped Thai chili peppers (or serrano peppers)
1 lemon (whole) squeezed
1 teaspoon kosher salt (or acc. to your taste)
a half teaspoon of chili powder
2 cups yogurt (plain)
1 teaspoon turmeric powder
3 tbsp mustard seed oil (or any vegetable oil)
fenugreek seeds, two pinches (about 15-20 seeds)
1 cup chopped fresh cilantro
Recipe
Step 1
At first, In a medium pot, bring some water to a boil. Wash the potatoes thoroughly under running water before plunging them into the boiling water.
Step 2
Secondly, After around 20 minutes, the potatoes should be ready. If you insert a fork, it should easily pass through. After that, Remove the potatoes from the water and wash them in cool water.
Step 3
If you're using larger potatoes, peel them first. Meanwhile, If you use baby potatoes, you can keep the skin on. Cut them up into little pieces.
Step 4
Combine the chopped onions, chili peppers, salt, chili powder, and lemon juice in a mixing bowl. Meanwhile, In the mixing dish, combine the diced potatoes and yogurt. Moreover, It's fine to add a few tablespoons of water if you're using thick yogurt.
Step 5
Heat some mustard oil (you can also use sunflower or canola oil, but mustard oil has a particular flavor) in a small skillet and toss in the fenugreek seeds. Turn off the heat when the seeds begin to turn dark brown and stir in the turmeric powder into the sizzling oil. Pour the hot oil into the mixing bowl. Swoosh!
Step 6
Combine all of the ingredients in a large mixing bowl and top with cilantro. Alternatively, add additional chili flakes, because spicy is always better.
4. Easy Potato Recipes: Crispy Potato Cake
If you are in the mood for some fun experiment with your cooking, this easy crispy potato cake recipe is just for you. With layered potato and crispy pork skin for added crunch, you can transform the humble potato cake into something dinner party perfect. Aside from its easy preparation, the budget for this meal is friendly too.
Ingredients
Potatoes
Melted Butter
Pork Skin
Seasonings of your choice
Recipe
Step 1
Firstly, Preheat the oven to 220°C. To fit the base of an ovenproof frying pan, cut a circle of baking paper. Slice the potatoes as thinly as possible with a sharp knife. After that, Pour a small amount of butter over the parchment on the bottom layer and precisely overlay potato slices on the first layer. Then add one-third of the remaining potatoes, season, drizzle with butter, and repeat until all of the potatoes have been used.
Step 2
Place the pork skin on top of the potatoes, skin-side up, and roast for 1 hour and 30 minutes, or until the crackling is crispy and the potatoes are wonderfully crisp and golden. Set the crackling aside, then transfer the potatoes to a tray or board and top with the crackling.
Step 3
Finally, Serve as the main dish or side dish with the seasonings or sauce of your choice.
5. Easy Potato Recipes: Fondant Potatoes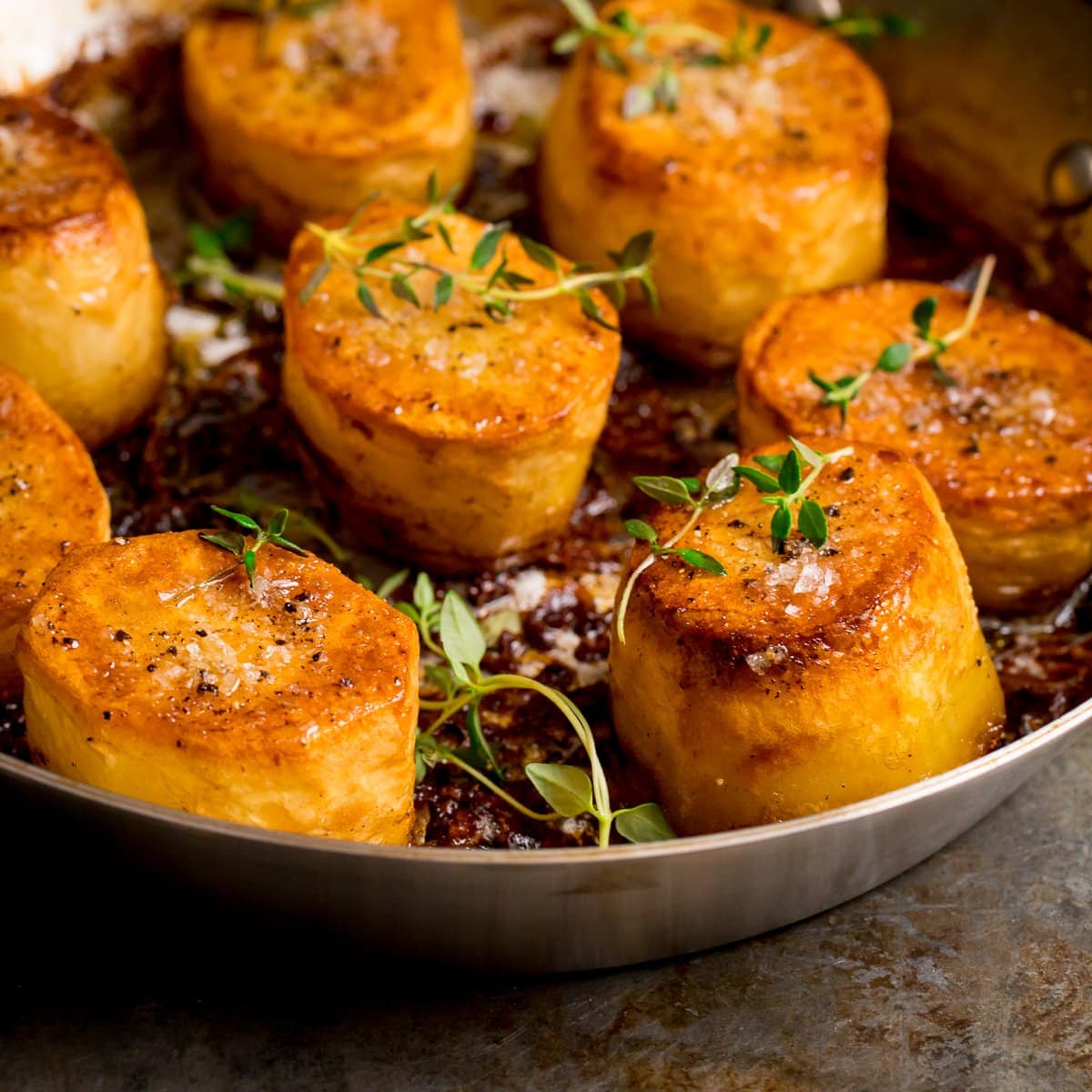 Fondant potatoes, also known as pommes fondant, are a type of potato dish prepared by cutting potatoes into cylinders, browning the edges, then slowly roasting them in butter and stock. They are usually seasoned with rosemary and thyme.
Ingredients
potatoes, medium
1 tablespoon extra virgin olive oil
4 large garlic cloves,
bashed 200g unsalted butter, cubed
2 rosemary sprigs
2 thyme sprigs
200ml stock (chicken or vegetable)
Recipe
Step 1
To begin, cut the ends off the potatoes so that they are flat on all sides.
Step 2
Secondly, In a medium-low heat pan, heat the oil. Add the potatoes cut-side down when the pan is heated. Fry for 5-7 minutes, or until golden brown on one side, then flip and fry the other. To melt the butter, place it in the pan.
Step 3
Thirdly, Season the potatoes with salt and pepper after scattering the garlic and herbs around them. Pour the stock around the vegetables with care, keeping an eye out for any hot butter that may splash out. Cover and cook for 25-30 minutes, or until potatoes are cooked, before serving.
These are some of the easy potato recipes. If you want to learn more recipes like this, visit here.
If you want to read more about foods around the world, click here.